This list highlights some of the best UK rappers making music right now – as well as those on the cusp of greatness.
After the fiercely innovative grime movement swept over the airways in the 1980s, artists found a means to merge lyrical sense with the trending soundscape to make the music industry note of a huge wave that was making its way from the streets of London to all other parts of the world.
We saw groups like Silver Bullet, Demon Boyz, London Posee and Cookie Crew among others foot stamp their authority with the underground rap magic that saw occasions lit up whenever such kind of music was played!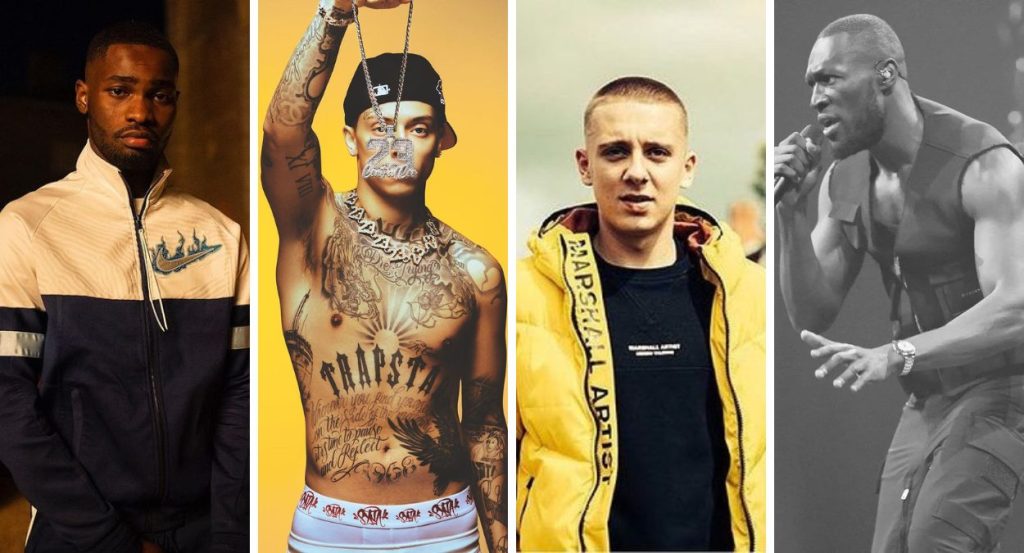 Most of the UK hip-hop scene has always evolved from London, which is a hub for diverse races and especially people of black descent. We have had the best UK rappers from other cities such as Liverpool, Manchester, Birmingham, Leicester, and Bristol among others but most of the rappers come from the City of London. Here are the top 31 best UK rappers in 2023.
Stormzy
Michael Ebenezer Kwadjo Omari Owuo Jr. goes by the stage name of Stormzy, is the best rapper in the UK. An authentic rapper and songwriter from London who made waves when he freestyled back in the day over some tormenting grime-inspired melodies!
When he steps up on the mic, he becomes the judge, jury and executioner- pledging guilty and passing the sentence with his swift lyrical justice and authority.
His leading single, "Vossi Bop" became his first to hit #1 in the UK.
He is also adored for the way he uses music to spread awareness like when he performed in 2019's Glastonbury Festival wearing a 'Union Jack Stab Vest' due to rising cases of knife crimes that had overwhelmingly risen in London at the time.
Some of the links in this post are affiliates, and we may earn a commission.
Dave
David Orobosa Omoregie goes professionally as Santan Dave or just Dave- he was born in Brixton England and his socially conscious lyricism and wordplay have been putting him on the global rap map.
He is also an actor and many might remember him on the British series, "Top Boy" where he features as 'Modi'. Everything he creates has his blood running through it with his raw impassioned vocals giving vibrant life to his authentic rap masterpieces.
His 2019 debut album, "Psychodrama" was received with deserved critical acclaim and debuted at #1 on UK Albums Chart.
Central Cee
Bugzy Malone
You can call him the hottest grime rapper who has successfully managed to bring back the grime scene of the 80s to the mainstream rap scene and he is really succeeding at that!
Aaron Davis, known professionally as Bugzy Malone, is a Manchester native. His grime redefined musical sense has been appealing itself to rap aficionados from the UK all the way to the most rural locations, with numerous rappers in the UK being inspired and taking a leaf from him.
His album "King of the North," inspired by the global television series "Game of Thrones," debuted at number four on the UK Albums Chart.
AJ Tracey
The man of the hour- real name Ché Wolton Grant going by his coined stage name, AJ Tracey is also from London and rose to popularity back in 2016.
His style of rap music that blends the splendor of grime, the magic of dancehall and the trigger of bouncy rap have made him a fan favorite in the UK and beyond.
His 2017 critically acclaimed EP; "Secure the Bag" debuted at #13 on the UK Albums Chart.
This West-London rap maestro knows how to make bangers off of melodies which is why he has been primed as the most promising rapper in the UK.
Aitch
This young prodigy made the world notice of his vast lyrical wisdom when he came through with his breakthrough single, "Straight Rhymez" which has so far garnered over 26 million views on YouTube and made famed UK master Stormzy notice.
His other song, "Rain" has amassed over 60 million views on YouTube and over 140 million streams on the popular streaming platform Spotify.
When it comes to delivering lyrical feasts, this energetic young king does not disappoint and since numbers don't lie, Aitch is one of the rap heavyweights spreading the UK culture through his lyrical prowess!
Headie One
Irving Ampofo Adjei popularly known as Headie One and formerly Headz has been changing his name as much as he has his lyrical game!
This lyricist from Tottenham England is one of the most sought-after underground rappers in the UK who blends the grill sound with his lyrical innovation to design pioneering music that is appreciated not just in the UK but also in the US drill scene.
He even got a collaboration out of the OVO king, Drake himself in the track, "Only You Freestyle" which peaked at #5 on the UK singles chart. He has also worked with Dave, Stormzy, and AJ Tracey, and his songs have charted from the UK to other areas of the world.
Skepta
This quintessential British MC from Tottenham is also a record producer who has a gift for lyrical invention. His talent on the mic is apparent onstage as it is on the page.
He has a big, bold, and expansive rap voice and he comes through as an uncontainable force, pulsing with drill sound while balancing the tension of the grime style and vivid lyricism.
His unvarnished authenticity, musicianship, and lyricism will burrow into your bones.
His feature as a guest artist on Asap Rocky's single "Praise the Lord" became his highest-charting single and a global banger!
Giggs
This rapper and songwriter from Peckham, London has been living an indelible mark on both his fans and the critics and there is little wonder why; just like wine, he keeps getting better with age!
His fourth studio album, "Landlord" peaked at #2 on the UK Albums Chart and was the highest-charting album of his career.
His other albums, "Walk in da Park" released in 2018 and the follow-up album, "Let Em Ave It" in 2019 was what properly introduced him to the game and made the world notice of a global phenomenon such as him.
He is still in the game and still got it, coming through with versatile flows drenched in authenticity and experience.
slowthai
At the center of the hip-hop genre, slowthai who was raised in Northampton creates music that others would consider controversial though innovative, inventive, intense, and politically charged.
Pushing the boundaries of impactful rap music, slowthai glimpses a futuristic world where everyone is aware of their rights.
His debut album, "Nothing Great About Britain" was actually nominated for the Mercury Prize.
He is not afraid to lyrically confront sensitive political issues and has been a vocal champion of human rights respect and upholding of the law by the British government for which he has gotten so much stick for but that has only augmented his momentum instead of slowing him down!
Mist
Rhys Thomas Sylvester who goes professionally as Mist is a British rapper and songwriter from Birmingham.
Devoted to the grime and drill exotic hip-hop rhythms, he blends lyrical prowess and the poetic imagination in rap engineered cocktail of deep flavors to curate visibly moving tracks that have come to be appreciated from Birmingham all the way to the world's hottest hip-hop stages in the USA and other parts of the world.
His second EP, "Diamond in the Dirt" which was released in February 2018 went on to peak at #5 on the UK Albums Chart.
Not3s
Lukman Olanrewaju Odunaike better known by his stage name Not3s (pronounced as Notes) is a British multitalented rapper, singer-songwriter, and actor from Hackney, London.
Rising from the depths of despair to the heights of ecstasy, his hit song, "Addison Lee" was his breakthrough single that became viral with more than 16 million views on GRM Daily and earned him many shows where he performed the tune to enthusiastic fans.
His singles, "My Lover" and "First Line" are both collaborations with Mabel. Singing effectively over hooks and delivering faultless bars has set him apart from many UK rappers of his generation!
Fredo
Fredo is a rapper and singer who hail from Queen's Park, London.
Taking a little bit from the best rappers of the old school rap like 50 Cent, he has always created a sound and a community that has been fast becoming a recognized brand.
His highest successful body of work to this date remains his acclaimed collaboration with fellow rapper Dave in the 2018 single, "Funky Friday" which peaked at #1 on UK Single Chart.
He grew up in a gang and crime-infested area of London's Mozart Estate and even found himself both a victim and perpetrator of stabbing-related crimes.
Chip
Born Jahmaal Noel Fyffe, this lyrical savvy better known by his stage name of Chip (previously Chipmunk) is a multifaceted British rapper and songwriter from Tottenham who apparently "can't run out of bars".
He has collaborated with hip-hop-heavy hitters such as Skepta, T.I, Meek Mill and many others with his 2019 debut album, "I Am Chipmunk" peaking at #10 on the UK Singles Chart with the tune, "Oopsy Daily" topping the charts all over UK and beyond.
His single, "Champion" featuring Chris Brown from his 2011 follow-up album, "Transition" earned him a place at #2 on UK Singles Chart.
ArrDee
Riley Davies, alias ArrDee, is a young British rapper who was born and raised in the little city of Brighton and is currently the hottest rapper in the UK. He is currently riding high on the success of his hit "Come & Go."
"Come & Go" which was released on 3rd March 2023 has earned him a reputation that saw him collaborate with the sought-after Ghanaian rapper, Black Sherif for a remix of the same.
He made a grand entrance into the music scene with his much-hyped debut Mixtape, "Pier Pressure" back in March 2023, and ever since, he has been on an upward trajectory with the single, "Hello Mate" ft. Kyla becoming a popular hit instantaneously!~
Kano
Many will remember him for his role as, "Sully" in the British-based series, 'Top Boy' and in case you didn't know; my boy is also a rapper and songwriter!
Hailing from East Ham, London he has always been considered one of the pioneers of grime music and culture alongside legends such as Wiley and Dizzee Rascal.
His 2016 fifth studio album, "Made in the Manor" remains his most successful project to this date earning him a place at #8 on the UK Albums Chart, and also owns the Best Album at the 2016 MOBO Awards.
When it comes to the underground scene, no one does it quite better like Kano who has been coined as the best contributor and enabler of the grime sound!
Stefflon Don
Stephanie Victoria Allen is the hip-hop queen who is better known by her stage name Stefflon Don.
She was born in Birmingham and is of Jamaican descent.
She blends hip-hop music with R&B, reggae, and dancehall for that culturally inclusive sound that saw her rise to fame.
Her 2017 single, "Hurtin' Me" featuring French Montana peaked at #7 on UK Singles Chart and showcased her musical depth and swagger to the rest of the world!
At one time she dated Nigerian Afrobeat star, Burna Boy but they broke up eventually with many sources citing that she was cheated on by the African Giant!
11 Powerful Rap Songs About Loyalty For Every Situation
Jme
This British quintessential grime MC, songwriter, record producer and DJ who was born in Hackney, London and raised in Tottenham is a lyrical master and the theme that he follows in his songs concur with lots of his emotional experiences.
Jme mixes eclectically the super grime style with some post-sound rap atmosphere to design tracks that are resistant to genre rules.
He is unapologetically authentic with style and versatility and this is what has been keeping him in the rap game to date.
He is also the co-founder of the crew and label, "Boy Better Know."
KSI
KSI is a British YouTuber and rapper whose channel boasts over 34 million subscribers and over 8 billion views across his three YouTube platforms.
His prolific talent traverses multiple genres, from ambient R&B to chill-out and deep hip-hop!
His knowledge and technical expertise in merging indigenous traditional musicianship with that contemporary poetic ambiance is what makes KSI's compositional style exceptional and unique.
His 2020's debut album, "Dissimulation" debuted at #2 on the UK Albums Chart with the second studio album, "All over The Place" debuting at #1!
He has gone on to achieve further success with his singles topping the charts ever since.
Skepta
This multi-versatile rapper and record producer carries undeniable subtle confidence and has been building a solid reputation for lyrics and flow.
He hails from Tottenham, England, and briefly joined Roll Deep before becoming a co-founder member of 'Boys Better Know' in 2005 alongside his brother and fellow rapper Jme.
His 2016 fourth studio album, "Konnichiwa" won him the Mercury Prize with some prominent hits singles, "That's Not Me" and "Shutdown" deservedly acclaimed all over the UK and beyond!
This MC has paved the way and has been a major inspiration for many young rappers coming through the UK rap scene.
J Hus
This multitalented singer and rapper has been credited with instigating the genre afro swing- a wordsmith in full effect whether singing his own stunning hooks or surging with speed in the rhythm and flow of his rap, there's never been any doubt about the star quality and skill of this young mogul- he was born 100% next level.
He has received the momentum, skills, and determination to continually raise the stakes and standards for all UK artists alike. With a passion of fire and Midwest tempo, his taking over the rap genre is no coincidence!
His 2015's single, "Dem Boy Paigon" saw him rise to fame and his "Did You See" peaked at #9 on the UK Singles Chart becoming his most successful single. It was in fact certified platinum.
He has gone on to release widespread and critically acclaimed albums and singles to place him as one of the most sought-after British collaborators of our time!
More UK rappers that are changing the game:
The UK hip-hop scene and culture is on the rise, and artists to keep an eye on in 2023 and beyond include Jorde, SR Sainté, Horrid1 x Sav'O, ShaSimone, Bawo, Cristale, and M'Way, to name a few.
---
Who is the best-selling UK rapper?
The best-selling UK rapper is Stormzy. He has sold over 600,000 albums in the UK alone, making him the best-selling UK rapper by a long shot.
He is also the first rapper to win MOBO's newly introduced 'Best Grime Act' award
What is the name of British rap?
The name of British rap is grime.
Although many musicians sing on grime tracks, the emphasis is on beats and rap-style lyrics. Beats are typically about 140 BPM, bringing in quick syncopated breakbeats. Emceeing is an important component of grime culture, with numerous musicians DJing, particularly in the genre's early years.
---